2.28.10
So here it is the end of the month and that means we are that much closer to Spring. I really can't wait to be done with the snow. I'm so over it!! Since I figured it is time to say goodbye to February, I figured I would take a look back and remember some really cool things I couldn't live without!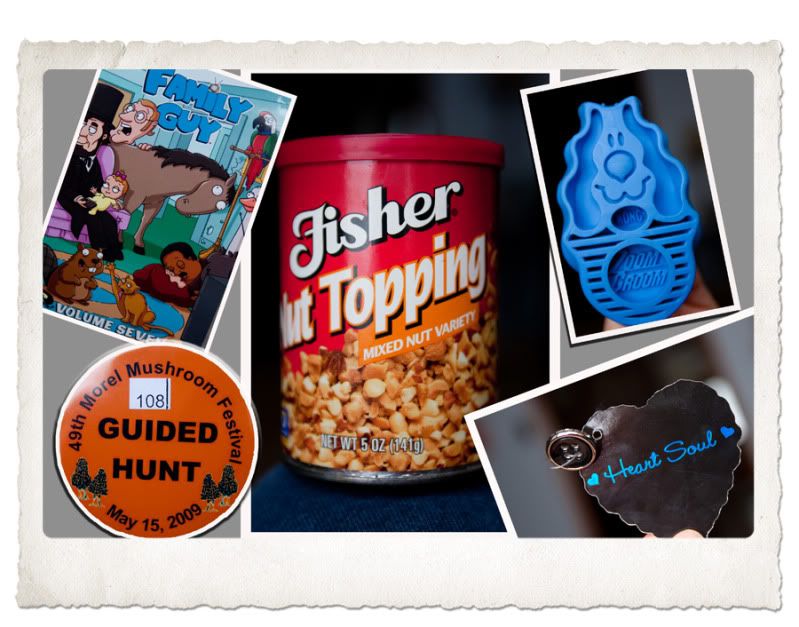 ** in no particular order:
1.) Family Guy volume seven. Todd and I try to sit down once a week and indulge in a few episodes. It's a great way to look at each other and shake our heads in disbelief.
2.) I got a new dog grooming tool called "Zoom Groom" at the local pet store and Dozer loves it! He knows I love to spoil him so this is the perfect gift for us! Seriously...the hair comes flying off. I can't believe how much he sheds for being a bulldog.
3.) My awesome gift from
Colton
. I'm still amazed and it was without a doubt the highlight of my month!
4.)Morel Mushroom Festival Button!!! I love this button because I love morels, mushroom hunting, and
Boyne City
! Todd and I just got our conformation emails about the festival and we are counting down the days!! Bring on the morels and wine tasting!!!
5.) Last but not least, Fisher's Nut Topping!! I have been on an ice cream binge lately and I love my vanilla ice cream, a gallon of chocolate syrup, and a pound to nuts to top it all off!! It's my new addiction which also goes well with watching Family Guy.
That is a little insight into my life. Hmmm....I wonder what five things I will love next month....to be continued!
~Leilani