1.04.10
ahhh.....my first post in 2010! I'm so excited about what is to come. I haven't officially set any New Year resolutions yet but I am having fun coming up with some new ideas and ways to implement them.
It was around the end of November when I received a phone call that would make my day--better yet my year. I answered the phone and there was a voice on the other end asking if I would be willing to allow her to come into my studio and job shadow me for a shoot. "Of course!" was my answer and I was so excited that someone actually wanted to see what it was like in my shoes. I warned her that I'm just a little small town girl who is basically winging everything but she still was interested and the rest is history.
I thought it was be so cool if during the job shadowing experience I actually called in some people who might be willing to pose and work with the both of us. If you or someone you know may be willing to get photographed, shoot me an email with a pic of the "model" and who knows....maybe your pictures will grace this blog and will be my official on-call model.
If you have any questions, send me an email.
Thanks,
~Leilani
****Edit: 1-06-10
Thank you so much for everyone's interest. I have enough models for my upcoming events. However, if you are still interested, I am willing to have some on standby in case of a cancellation or they will be the first people I call if something like this were to happen in the future.
Thanks again!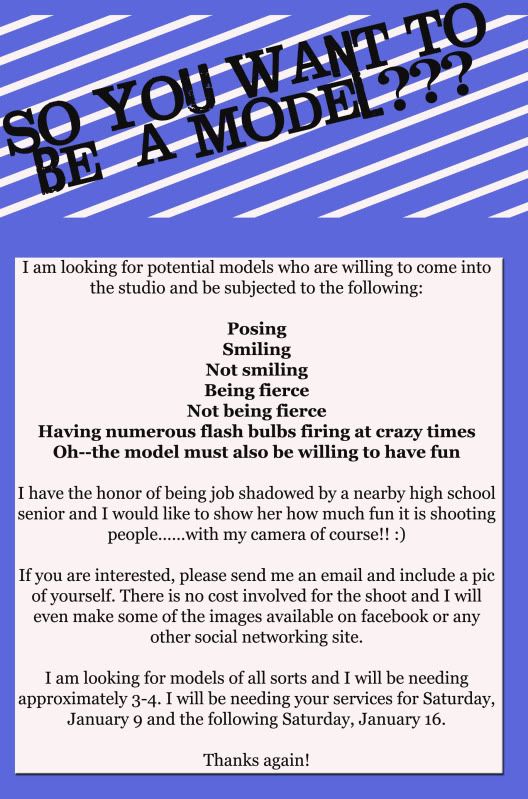 My email address is Leilani@LeilaniTucker.com